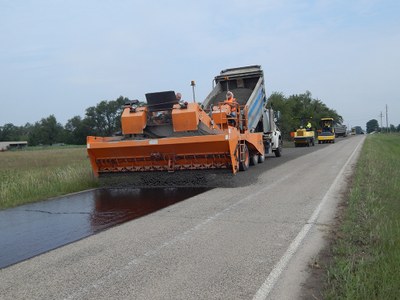 This site is for news, updates and communication with county engineers and highway administrators in Kansas.
The Kansas County Highway Association consists of the Road Superintendents and County Engineers of the Kansas Counties.  One hundred of the 105 Kansas counties are members of our association.  Kansas Counties own and maintain 109,000 miles of roads, which is 82% of all the roads in Kansas.  We own and maintain 19,650 bridges which is 77% of all the bridges in Kansas.
.
.
.
June 1, 2020
Dear KCHA Members and Vendors,
The Kansas County Highway Association held an Executive Committee Meeting on Friday, May 29, 2020. During the meeting, a decision was made by the KCHA Executive Committee to cancel this year's 2020 Spring Conference due to the current limitations resulting from COVID-19 and major concerns for the health and safety of our members, vendors, speakers, and other conference participants.
The Executive Committee also decided to schedule a KCHA business meeting with our KCHA county members on Wednesday, June 24, 2020 from 3:00 p.m. to 4:00 p.m. via a Zoom conference call. The Zoom conference call connection information for the business meeting is as follows:  ( If you are a KCHA member, you should have received an email from the KAC with the information )
.
.
.
If you wish to cancel your registration for the Spring Conference please contact Dornella Leal at the KAC office, (785) 272-1585 or email your request to leal@kansascounties.org    
The Four Points by Sheraton has been notified of our cancelation of the conference. To cancel your room reservations you may contact the Four Points by Sheraton by calling (758) 539-5311 or (785) 587-5571. 
Thank you for your understanding in this matter and stay safe.
Sincerely,
 Alvin R. Perez
KCHA President
.
.
.
Justin Mader Official of the Year with his family at the 2019 Annual Meeting